More than three times around the world at the TEAM-Relay 2023
Is it possible to run a distance greater than three times around the world in three days? With a team, anything is possible! 5,170 relay teams competed over the three days of this year's Berliner Wasserbetriebe 5 x 5 km TEAM-Relay and covered a total of 129,250 kilometres – a distance that easily reaches three times around the globe along the equator.
For three days, the teams gave it their all. On the course and alongside it cheering, at their picnics and of course while celebrating together. On the last day of the relay, the men's team from SCC BERLIN had lots of time for the post-race activities – the five athletes needed just 1:22:14 hours to cover the total of 25 team kilometres together.

And that meant not only the fastest time of the day, but also of the entire 2023 edition of the Berliner Wasserbetriebe 5 x 5 km TEAM-Relay. The women of SCC BERLIN were just as accomplished as their male clubmates: With final runner Christina Gerdes from Marathon Team Berlin, they too set both a daily and a three-day best time in 1:33:46 hours.
Team building in running shoes
Whether in everyday life at work or in sport – working together towards a common goal is an important key to success in all areas. Couple that with fun and a great atmosphere, you become unbeatable as a team. For many companies, the relay fest has been a permanent fixture in their own event calendars for years.

The Alexianer St. Hedwigs Kliniken Berlin, for instance, equally demonstrated team spirit and fitness with 38 relay teams. And the BVG, Berlin's public transit, was out and about in running shoes instead of in busses and trains, at least in Tiergarten park, where 35 relay teams got things moving. On all three relay days, the employees of tomorrow were also in top form: more than 300 children took part in the Bambini Run presented by ADAC Berlin-Brandenburg.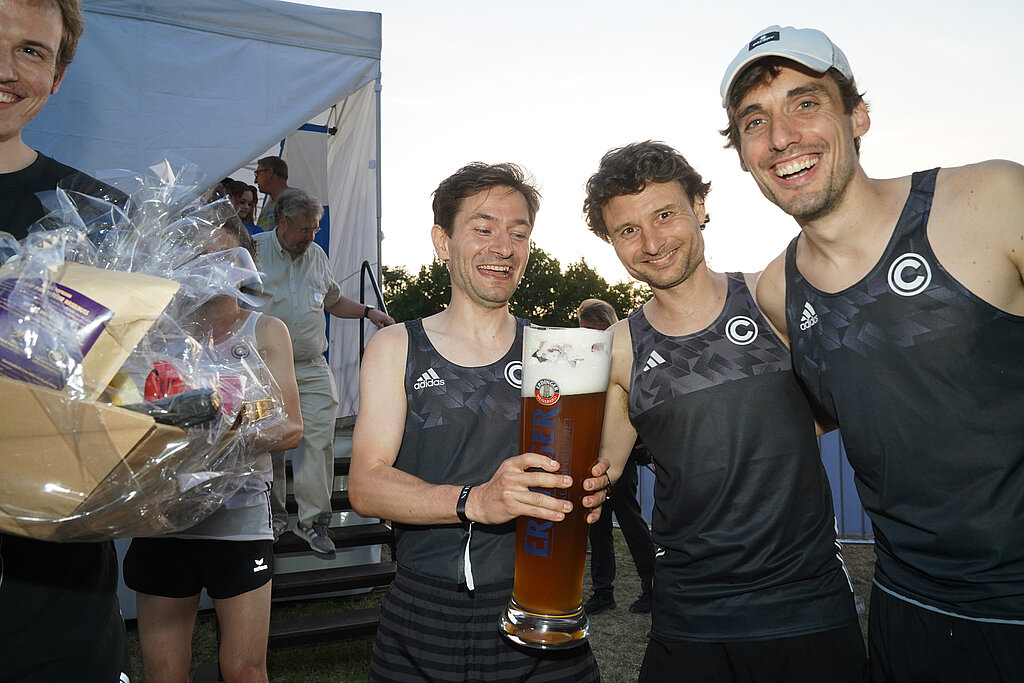 For the winners there was an extra large refreshment from ERDINGER Alkoholfrei
Creative top performances
Everyone gave their all, not only on the course but also in the exchange area. Here, special creativity was the key to success. In order to guide the runners to the right handover point, many teams used very imaginative signs. Some of this ingenuity also paid off for next year: the most creative signs and eye-catchers were rewarded with a free start for the Berliner Wasserbetriebe 5 x 5 km TEAM-Relay 2024.

With their motivating slogan "You're doing this voluntarily, so smile!", the team "Die Schweinehunde" benefited from a free start next year. The team of the Johannisstift Diakonie also won free entry for next year with their colourful round sign that was created in a Diakonie workshop for people with disabilities. The team "Berlin's great role models" drew attention to themselves with a giant relay mascot in the form of a fantasy doll – this also earned them free entry for next year.